KUALITAS PERENCANAAN PEMBANGUNAN PERANGKAT DAERAH DI LINGKUNGAN PEMERINTAH PROVINSI LAMPUNG
Abstract
The development planning document substantially describes the problems and priorities of development in the regions as the basis for the preparation of development programs and activities. Undang-Undang No. 25 Tahun 2004 about the National Development Planning System mandates that development planning documents be prepared with a political, technocratic, participatory, top-down, and bottom-up approach. The substance of the document must also meet the criteria of holistic, thematic, integrative, and spatial. This study uses a qualitative descriptive method, with primary data obtained through in-depth interviews with respondents from planning elements in regional offices within the Lampung Provincial Government. The results showed that the process of preparing development planning documents carried out by regional officials was still predominantly done on a top-down basis, and substantially not all of them met the holistic, thematic, integrative, and spatial criteria. Regional offices have also not implemented the development planning process in a synergistic, inter-sectoral integrated manner and supported by adequate data and information analysis. Improving the quality of development planning in regional offices requires commitment from regional offices leaders, in addition to the need to strengthen a more participatory and evidence-based development planning system.
Downloads
Download data is not yet available.
References
Andrian, Risky, and Ubaidullah. 2020. "Mekanisme Ganti Rugi Pengadaan Tanah Pada Pembangunan Jalan Tol Banda Aceh-Sigli Kecamatan Blang Bintang." Jurnal Ilmiah Mahasiswa FISIP Unsiyah 5:1–18.
Abdul Wahab, Solichin. Analisis Kebijakan dari Formulasi ke Kebijakan Negara. Bumi Asara, Jakarta. 1997.
Bobrow, D. B., and J. S. Dryzek. Policy Analysis by Design. University of Pittsburgh Press, Pittsburgh. 1987.
Budi Winarno. Teori dan Proses Kebijakan Publik. Medpress, Yogyakarta. 2004
E.R. Alexander. Design in the Decision-Making Process. 1982. Policy Sciences Journal 14: 279-292.
I Gusti Agung Rai. Audit Kinerja pada Sektor Publik; Konsep, Praktik, dan Studi Kasus. Salemba Empat, Jakarta. 2008.
Irfan Islamy. Prinsip-Prinsip Perumusan Kebijakan Negara. FIA Unibraw, Malang. 1991.
J.E. Anderson. Public Policy Making. Praeger, New York. 1975.
John O. Flynn et.al. Collaborative Governance: A New Era of Public Policy in Australia." The Australian National University (ANU) – E PRESS, Australia. 2008
Leonard Mlodinow, Elastic; Flexible Thinking in a Constantly Changing World. Pinguin Randum House, UK, USA, Canada, Ireland, Australia, India, New Zealand, South Africa. 2018.
Lindes, S., and B. G. Peters. The Design of Instruments for Public Policy; Policy Theory and Policy Evaluation: Concepts, Knowledge, Causes, and Norms. Greenwood Press, New York. 1990.
M. Howlett. Policy Instruments, Policy Styles and Policy Implementation. Policy Studies Journal 19.2: 1-21. 1991.
Saifuddin, Ridwan; Hermawan, Dedy; Prasetyo, Sigit. Kinerja Musrenbang Provinsi Lampung 2017. Jurnal Kelitbangan Inovasi Pembangunan Volume 06 No.01, Maret 2018.
Saifuddin, Ridwan. Desain Kebijakan Perencanaan Berbasis Bukti. Pusaka Media. 2020.
Saifuddin, Ridwan. Pengaruh Pandemi Terhadap Tata Kelola Pemerintahan; Studi Kasus Pelayanan Publik Pemerintah Provinsi Lampung. Jurnal Kelitbangan Inovasi Pembangunan Volume 09 Nomor 03, Desember 2021, p-ISSN 2354-5704, e-ISSN 2622-190X.
Schafersman, Steven D. Pengantar Pemikiran Ilmiah dan Metode Ilmiah. Departemen Geologi, Miami University (http://www.muohio.edu/~schafesd/documents/intro-to-sci.htmlx). 1997.
Sanyal, Bishwapriya, ed. Planning culture in transition. Comparative Planning Cultures. New York: Routledge. 2005.
The Drucker Foundation. The Organization of The Future. PT Elex Media Komputindo (cetakan kedua). Jakarta. 2001
Thomas A. Birkland. M.E. Sharpe. An Introduction to the Policy Process; Theories, Concepts, and Models of Public Policy Making (Third Edition). Armonk, New York, London, England. 2011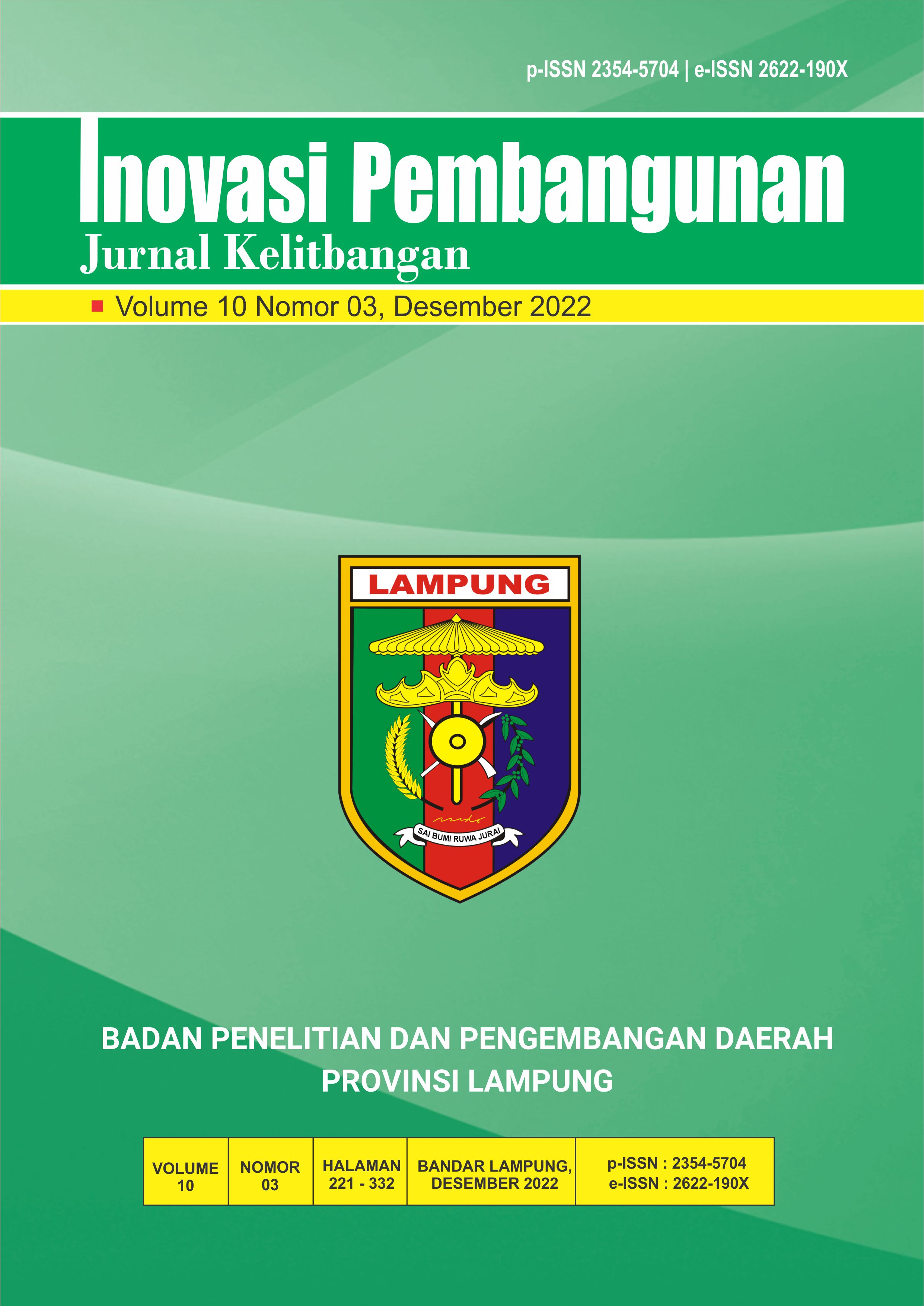 How to Cite
1R. (2022). KUALITAS PERENCANAAN PEMBANGUNAN PERANGKAT DAERAH DI LINGKUNGAN PEMERINTAH PROVINSI LAMPUNG. Inovasi Pembangunan : Jurnal Kelitbangan, 10(03), 309. https://doi.org/https://doi.org/10.35450/jip.v10i03.326
This work is licensed under a Creative Commons Attribution 4.0 International License.
The Authors submitting a manuscript do so on the understanding that if accepted for publication, copyright of the article shell be assigned to Development Innovation: Jurnal Kelitbangan (JIP) , Balitbangda Provinsi Lampung as publisher of the journal.
Copyright encompasses exclusive rights to reproduce and deliver the article in all form and media, including reprints, photographs, microfilms and any other similar reproductions, as well as translations, the reproduction of any part of this journal, its storeage in databases and its transmission by any form or media. such as electronic, electrostatic and mechanical copies, photocopies, recordings, magnetic media, etc.