PENERAPAN RESTORATIVE JUSTICE DALAM PENCEGAHAN TERJADINYA LABELING TERHADAP ANAK PELAKU TINDAK PIDANA DI BANDAR LAMPUNG
Abstract
The juvenile criminal justice process must prioritize the Restorative Justice approach, in Article 8 Paragraph (3) letter c of Law Number 11 of 2012 concerning the Juvenile Criminal Justice System states that the Diversion process must pay attention to the avoidance of negative stigma or labeling. The problem in this research is the application of Restorative Justice in preventing the occurrence of labeling of children, as well as what are the inhibiting factors for the application of Restorative Justice. This research is a normative and empirical juridical research using primary and secondary data. The data collection method uses the interview method. Data analysis was carried out with qualitative literature. The results of research and discussion of facts in the field of Restorative Justice or Diversion are divided into two, namely Diversion not based on law and Diversion based on law. Restorative Justice can be used in preventing the occurrence of labeling of children to prevent children from formal justice processes and to return to the social environment. The inhibiting factor is the factor of the victim's family who wants the case to continue to be processed through the judiciary, the difficulty of being invited to a Diversion meeting as well as the mode of extortion against the perpetrator, the legal substance factor, legal structure, and legal culture. It is recommended that parents, families, and communities should guide and keep to watch the children so that they can grow according to the nature of the child and to anticipate the potential for criminal acts committed by children. The police should collaborate with related agencies to disseminate the importance of preventing labeling, especially for child perpetrators of criminal acts with Restorative Justice or Diversion among the community and always prioritizing  Restorative  Justice  as  an  alternative  to  imprisonment  so  as  to  prevent labeling of children.
Downloads
Download data is not yet available.
References
Achmad, Deni dan Firganefi. 2016. Pengantar Kriminologi dan Viktimologi, Bandar Lampung: Justice Publisher.
Atmasasmita, Romli. 1997. Peradilan Anak Di Indonesia, Bandung: Mandar Maju.
Direktur Rehabiilitasi Sosial Kementerian Sosial RI: jumlah Anak yang Berkonflik dengan Hukum pada Tahun 2019 dan 2020.
Gultom, Maidin. 2008. Perlindungan Hukum Terhadap Anak Dalam Sistem Peradilan Pidana Anak di Indonesia, Bandung: Refika Aditama.
Hartono, Sunarjati. 1991. Politik Hukum Menuju Satu Sistem Hukum Nasional, Bandung: Alumni.
Indonesia, Undang-Undang tentang Sistem Peradilan Pidana Anak, UU No. 11 Tahun 2012, LN No. 153 Tahun 2012, TLN No. 5332.
Indonesia, Undang-Undang tentang Kepolisian Negara Republik Indonesia, UU No. 2 Tahun 2002, LN No. 2 Tahun 2002, TLN No. 4168.
Maulani, Diah Gustiniati. 2016. Diversi dan Restorative Justice Dalam Perspektif Penyelesaian Perkara Anak Yang Berkonflik Dengan Hukum.
Pradityo, Randi. 2016. Restorative Justice Dalam Sistem Peradilan Pidana Anak, Pusat Studi Pembaharuan Hukum Indonesia. Vol. 5, No. 3.
Rosidah, Nikmah. 2011. Asas-Asas Hukum Pidana, Semarang:Pustaka Magister.
Zulfikar, Firman. 2020. Inovasi Pembangunan. Jurnal Kelitbangan. Vol. 08, No. 1. Hal.85.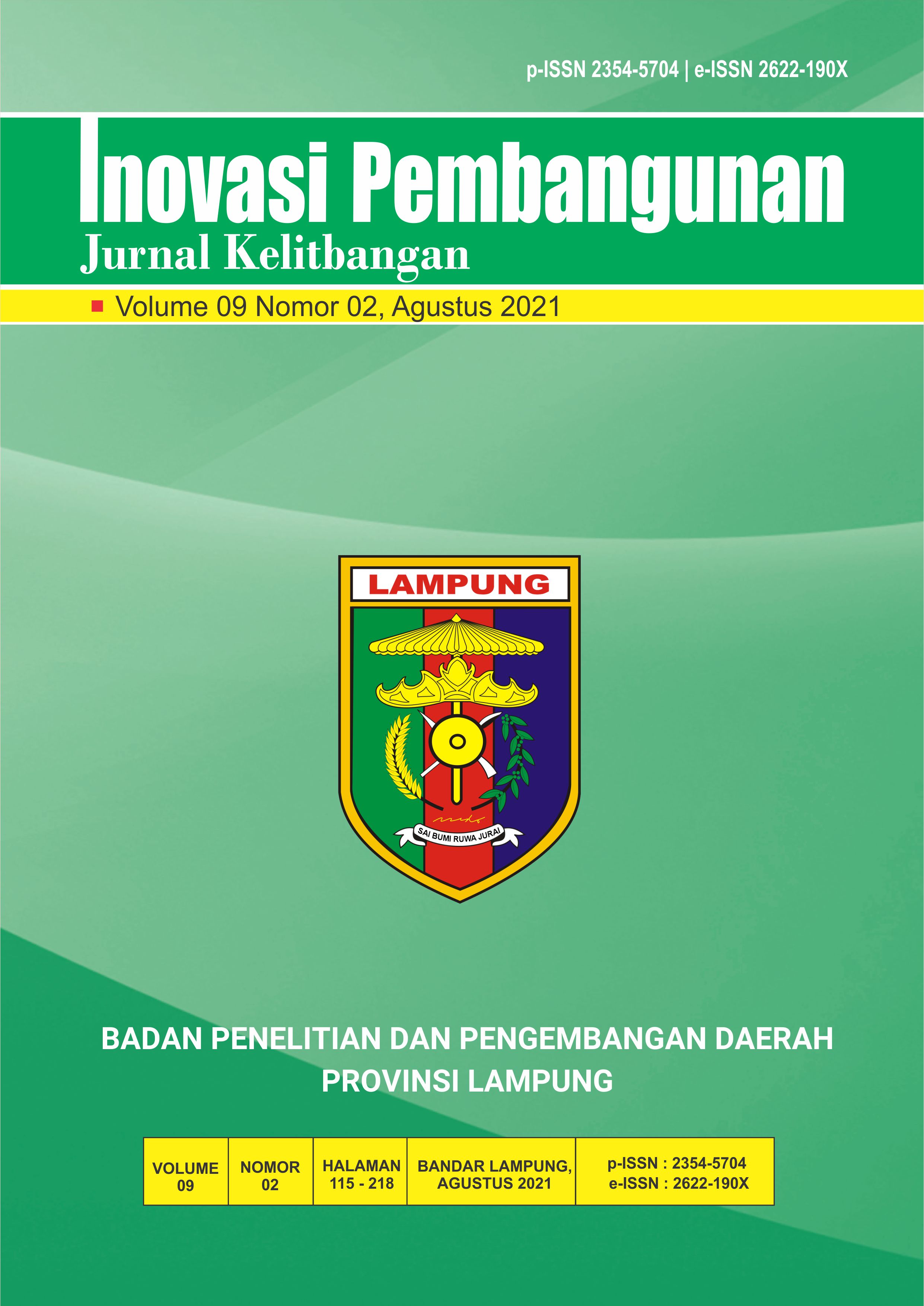 How to Cite
dewi, E. (2021). PENERAPAN RESTORATIVE JUSTICE DALAM PENCEGAHAN TERJADINYA LABELING TERHADAP ANAK PELAKU TINDAK PIDANA DI BANDAR LAMPUNG. Inovasi Pembangunan : Jurnal Kelitbangan, 9(02), 141. https://doi.org/https://doi.org/10.35450/jip.v9i02.237
This work is licensed under a Creative Commons Attribution 4.0 International License.
The Authors submitting a manuscript do so on the understanding that if accepted for publication, copyright of the article shell be assigned to Development Innovation: Jurnal Kelitbangan (JIP) , Balitbangda Provinsi Lampung as publisher of the journal.
Copyright encompasses exclusive rights to reproduce and deliver the article in all form and media, including reprints, photographs, microfilms and any other similar reproductions, as well as translations, the reproduction of any part of this journal, its storeage in databases and its transmission by any form or media. such as electronic, electrostatic and mechanical copies, photocopies, recordings, magnetic media, etc.