KESEJAHTERAAN MASYARAKAT DAN PERTUMBUHAN EKONOMI DI PERBATASAN JAGOI BABANG KALIMANTAN BARAT MELALUI PEMBERDAYAAN
Sabinus Beni

Institut Shanti Bhuana
Abstract
This research was conducted in Jagoi Babang Subdistrict, which has a land boundary with Serikin Sarawak Malaysia, where the current condition of the Border Crossing Post has not been officially opened. This study aims to see the level of welfare of the community at the Jagoi Babang border of West Kalimantan before the opening of the Transboundary Post. from the Central Statistics Agency of Bengkayang Regency with data on findings in different fields, this is because economic activities are only enjoyed by people who have financial capacity and entrepreneurs, while local people who do not have capital do not get complete attention by the government, for example by providing assistance through improvements. human resources so that later when the border is officially opened, the local community can compete optimally. Government interventions are limited to providing social assistance but have not been able to reach the whole Jagoi Babang community, the expected assistance is in the form of entrepreneurship training and assistance with access to capital from the government, the provision of facilities and infrastructure for improving human resources, namely quality schools and the existence of Vocational High Schools that can answering the needs that will come when opening borders and health facilities that can compete with Malaysia and development that includes local wisdom. The methods used are quantitative methods and qualitative methods as complementary methods with data collection techniques in the form of observations and interviews with the Jagoi Babang border community and in the following year further research will be carried out after the opening of the National Border Crossing Post, whether there is an increase in community welfare or the opposite with hope in the future can be the main source in writing a book on the development of the land border area of ​​Indonesia-Malaysia.
Downloads
Download data is not yet available.
References
Almutahar, H. (2014). Pelaksanaan Program Nasional Pemberdayaan Masyarakat (PNPM) Mandiri Pedesaaan Di Kawasan Perbatasan Kabupaten Bengkayang. Universitas Tanjungpura.
Bangun, B. H. (2017). Konsepsi Pengelolaan Wilayah Perbatasan Negara: Perspektif Hukum Internasional. Tanjungpura Law Journal, 1(1), 52–63.
Bappeda. (2021). RKPD Bengkayang 2021. Bengkayang. Retrieved from https://bappeda.bengkayangkab.go.id/wp-content/uploads/2020/08/RKPD-BENGKAYANG-2021.pdf
Beni, S. (2017). Pembangunan Manusia Melalui Pendidikan Dasar Credit Union. (Herulono, Ed.). Jakarta: Mer-C Publishing.
Beni, S., & Manggu, B. (2020). Efektivitas Program Keluarga Harapan Dalam Penanggulangan Kemiskinan Di Perbatasan (Studi Kasus Kecamatan Jagoi Babang Kabupaten Bengkayang Kalimantan Barat). Sosiokonsepsia, 9(2), 162–170.
Beni, S., Manggu, B., & Sensusiana. (2018). Modal Sosial Sebagai Suatu Aspek Dalam Rangka Pemberdayaan Masyarakat. JURKAMI, 3(1), 8–24. Retrieved from http://jurnal.stkippersada.ac.id/jurnal/index.php/JPE/article/view/341
Beni, S., & Rano, G. (2017). Credit Union Sebagai Penggerak Ekonomi Masyarakat Dayak Kalimantan Barat. Prosiding International Congress I Dayak Culture 1, 1(1), 168–177.
BPS. (2019). Kabupaten Bengkayang Dalam Angka 2019. (BPS, Ed.) (2019th ed.). Bengkayang: BPS Kabupaten Bengkayang.
Budiman, J. (2017). Bidai dan Takin dalam Perspektif Sosio Ekonomi Masyarakat Perbatasan Indonesia-Malaysia. Perbatasan, 2(1), 1–9.
Budiono. (1982). Pengantar Ilmu Ekonomi. jakarta: BPPE.
Friawan. (2008). Implikasi Pembangunan Dalam Pendidikan. Pendidikan, 5(1), 9–15.
Lenti, M., Beni, S., Sadewo, Y. D., & Usman. (2020). Strategi Diferensiasi Produk LINE Untuk Menarik Minat Konsumen. Business Economic and Entrepreneurship, 2(2), 9–19.
Nikodemus, N. (2017). Perempuan Pengrajin Bidai Di Perbatasan Jagoi Babang. Jurnal Studi Gender Dan Anak, 1(1), 8–25.
Pratiwi, M. C. Y. (2018). Disparitas dan Transformasi Struktural Antar Kabupaten/Kota Di Kalimantan. Inovasi Pembangunan-Jurnal Kelitbangan, 6(3), 239–259.
Purnasari, P. D., & Sadewo, Y. D. (2019). Pendidikan Kewirausahaan Berbasis Ketahanan Nasional dan Budaya Amare. In Seminar Nasional Kesadaran Bela Negara dalam Rangka Mencegah Disintegrasi Bangsa di Era Revolusi Industri (pp. 64–70).
Putri, S. R., & Hamidy, F. (2019). Sistem Informasi Manajemen Atas Pendapatan (Studi Kasus : PT. Pelabuhan Indonesia II (Persero Cabang Panjang). Jurnal Kelitbangan, 7(3), 301–310.
Rosni. (2012). Analisis Tingkat Kesejahteraan Masyarakat Nelayan Di Desa Dahari Selebar Kecamatan Talawi Kabupaten Batubara. Jurnal Geografi, 9(1), 1–8.
Sadewo, Y. D., Purnasari, P. D., & Dimmera, B. G. (2019). Pendidikan Kewirausahaan Berbasis Ketahanan Nasional dan Budaya Amare. (Tohar, Ed.) (1st ed.). Makasar: Tohar Media.
Sukirno, S. (2016). Makroekonomi: teori pengantar (2nd ed.). Jakarta: RajaGrafindo Persada.
Susianti. (2019). Pemberdayaan Wanita Di Sektor Informal Dalam Usaha Meningkatkan Pendapatan Keluarga : Studi Kasus Di Kabupaten Sleman. Jurnal Kelitbangan, 7(1), 31–47. Retrieved from http://journalbalitbangdalampung.org
Sutaat. (2012). Pemberdayaan Masyarakat Daerah Perbatasan Antar Negara: Studi Masalah, Kebutuhan dan Sumber Daya Sosial Desa Jagoi, Kecamatan Jagoi Babang-Kabupaten Bengkayang, Kalimantan Barat. Sosiokonsepsia, 17(1), 8–17.
Vuspitasari, B. K., & Ewid, A. (2020). Peran Kearifan Lokal Kuma Dalam Mendukung Ekonomi Keluarga Perempuan Dayak Benyadu. Sosiohumaniora, 22(1), 26–35.
Wulandari. (2016). Perkembangan Pembangunan Ekonomi Kawasan Perbatasan Negara Indonesia Malaysia Di Sambas. Universitas Tanjungpura.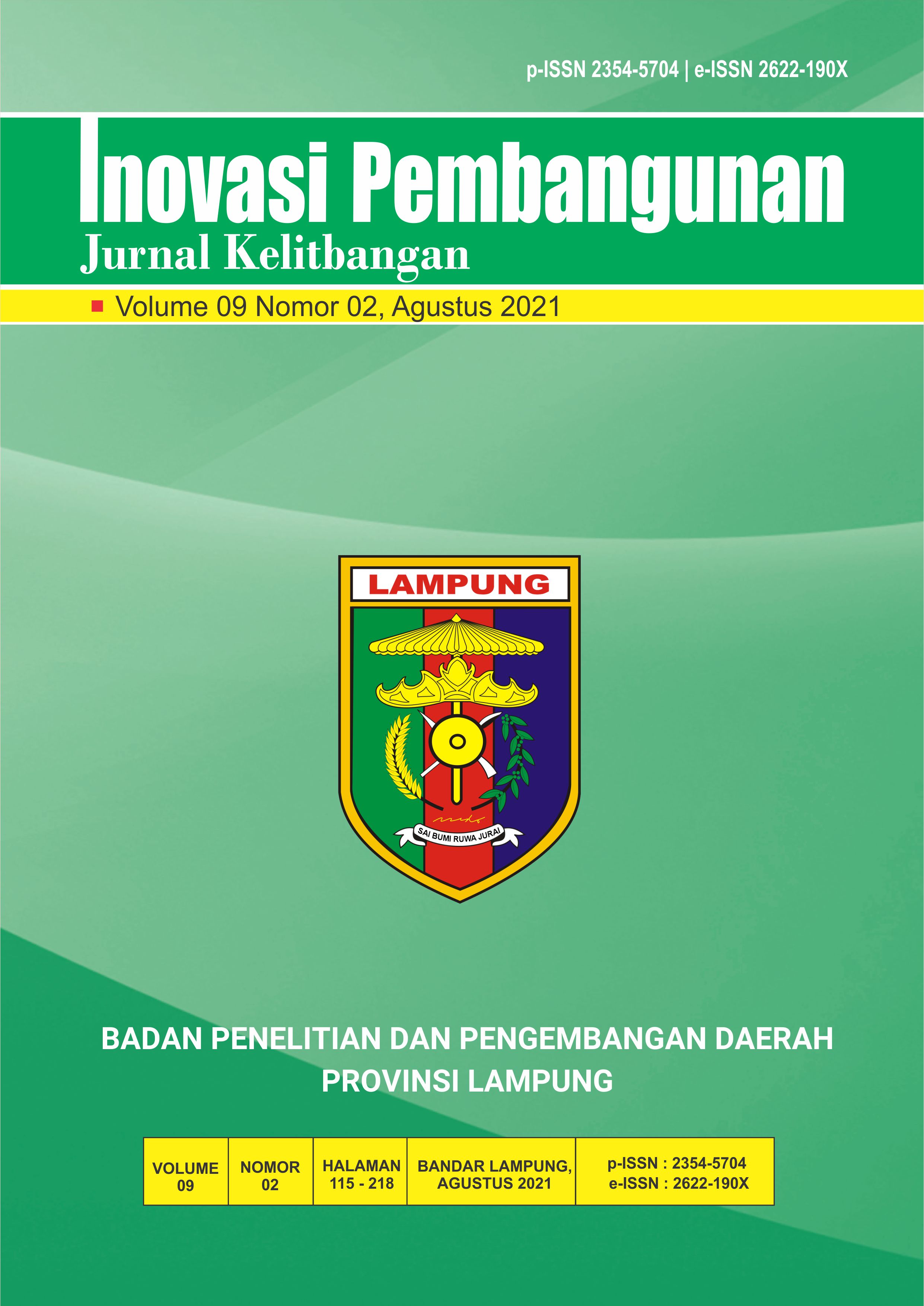 How to Cite
Beni, S. (2021). KESEJAHTERAAN MASYARAKAT DAN PERTUMBUHAN EKONOMI DI PERBATASAN JAGOI BABANG KALIMANTAN BARAT MELALUI PEMBERDAYAAN. Inovasi Pembangunan : Jurnal Kelitbangan, 9(02), 125. https://doi.org/https://doi.org/10.35450/jip.v9i02.232
This work is licensed under a Creative Commons Attribution 4.0 International License.
The Authors submitting a manuscript do so on the understanding that if accepted for publication, copyright of the article shell be assigned to Development Innovation: Jurnal Kelitbangan (JIP) , Balitbangda Provinsi Lampung as publisher of the journal.
Copyright encompasses exclusive rights to reproduce and deliver the article in all form and media, including reprints, photographs, microfilms and any other similar reproductions, as well as translations, the reproduction of any part of this journal, its storeage in databases and its transmission by any form or media. such as electronic, electrostatic and mechanical copies, photocopies, recordings, magnetic media, etc.