The DAMPAK KEMITRAAN CREATED SHARED VALUE PT. GREAT GIANT LIVESTOCK TERHADAP PENDAPATAN PETERNAK SAPI POTONG DI KELOMPOK LIMOUSIN, DESA ASTOMULYO
Aisyah Nisa'ul Fitri

Universitas Diponegoro
Abstract
This study aims to describe the implementation of PT. Great Giant Livestock's CSV partnership programs in the Limousin Group and determine the impact of the CSV partnership implemented by Great Giant Livestock Company on the income of beef cattle farmers in the Limousin Group. This research was conducted in April – May 2022 in the Limousin Group, Astomulyo Village, Central Lampung regency. The choice of research location was determined intentionally using purposive sampling, considering that Limousin Group is a partner group of Great Giant Livestock Company which is in ring 3 with the highest number of members still actively collaborating with the company. The technique for determining respondents was a census in the Limousin Group of as many as 60 respondents. Data was collected using interviews with questionnaire instruments and observation. The method of analysis is descriptive and uses multiple linear analyses. The descriptive analysis results obtained that the partnership's planning and implementation are in a suitable category. The numerous linear analysis results show that the partnership's performance partially affects the partnership's impact. The partnership's planning and implementation simultaneously affect the partnership's impact on the income of beef cattle farmers. Partnership planning and implementation affect revenue by 20.2%.
Downloads
Download data is not yet available.
References
Bulkaini, B., Ariana, T., Yulianto, W., Mastur, M., dan Dahlanudin, D. 2022. Kinerja produksi sapi bali dengan pemberian pakan kulit nanas feremtasi. Prosiding SAINTEK, 4(1): 191 – 196.
Chin, W. W. 1998. The partial least squares approach to structural equation modeling. Modern methods for business research. 295(2): 295 – 336.
Damanik, S. E., & Purba, S. (2019). Perencanaan Pola Kemitraan Dalam Peningkatan Kesejahteraan Petani Kph Xiii Kawasan Dolok Sanggul Kabupaten Humbang Hasundutan. Sebatik. 23(2): 582 – 591.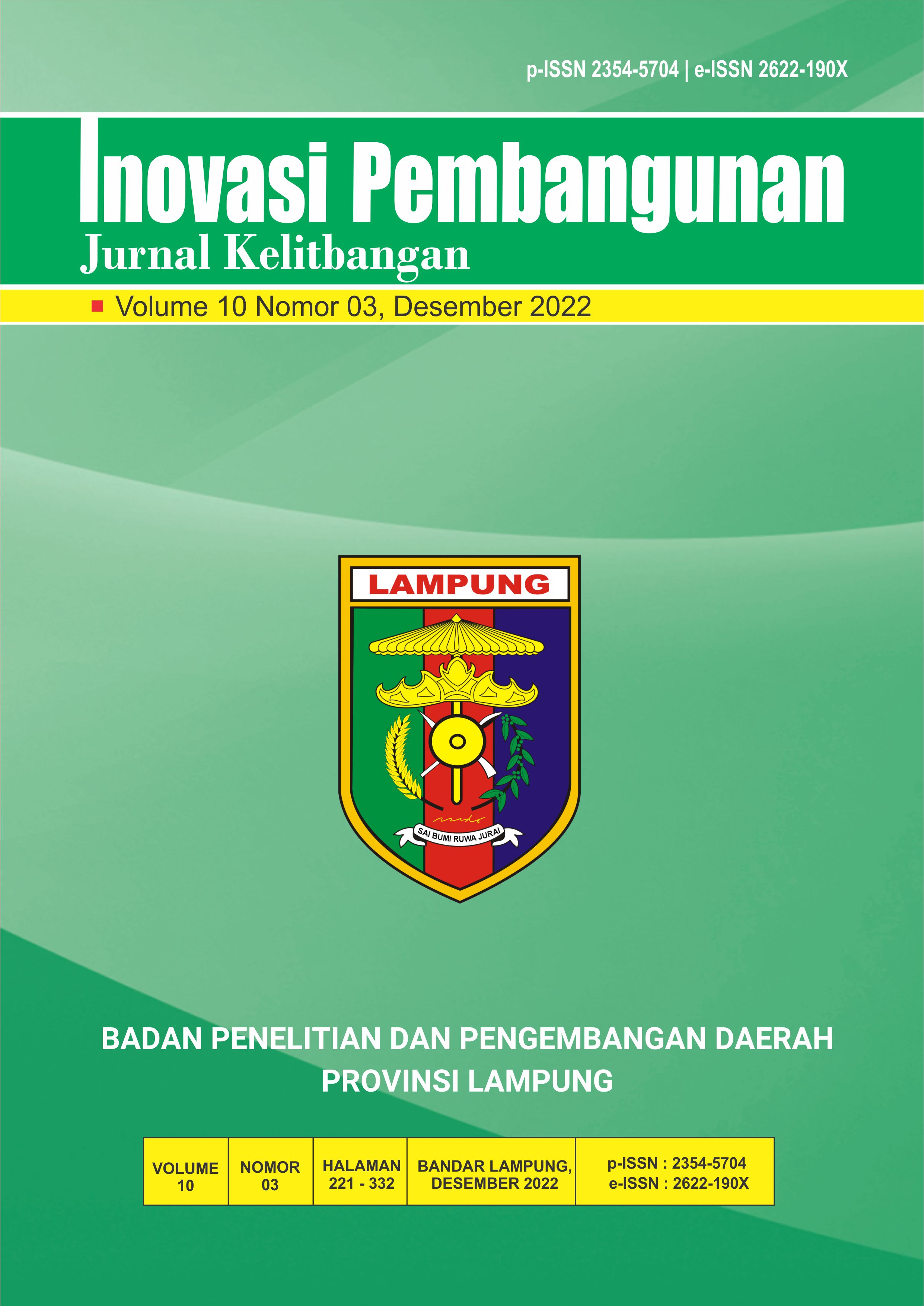 How to Cite
Fitri, A. (2022). The DAMPAK KEMITRAAN CREATED SHARED VALUE PT. GREAT GIANT LIVESTOCK TERHADAP PENDAPATAN PETERNAK SAPI POTONG DI KELOMPOK LIMOUSIN, DESA ASTOMULYO. Inovasi Pembangunan : Jurnal Kelitbangan, 10(03), 271. https://doi.org/https://doi.org/10.35450/jip.v10i03.320
This work is licensed under a Creative Commons Attribution 4.0 International License.
The Authors submitting a manuscript do so on the understanding that if accepted for publication, copyright of the article shell be assigned to Development Innovation: Jurnal Kelitbangan (JIP) , Balitbangda Provinsi Lampung as publisher of the journal.
Copyright encompasses exclusive rights to reproduce and deliver the article in all form and media, including reprints, photographs, microfilms and any other similar reproductions, as well as translations, the reproduction of any part of this journal, its storeage in databases and its transmission by any form or media. such as electronic, electrostatic and mechanical copies, photocopies, recordings, magnetic media, etc.