SATISFACTION OF ISLAMIC ECONOMICS AND BUSINESS STUDENTS AS SHOPEEFOOD CUSTOMERS (CASE STUDY: SHOPEEFOOD CUSTOMERS AT FACULTY OF ISLAMIC ECONOMICS AND BUSINESS UIN SUNAN KALIJAGA YOGYAKARTA)
Furqonul Haq

UIN Sunan Kalijaga Yogyakarta

Iksan Adi Nugroho

Baihakil Aziz

Khoirun Nisa

Andra Abel Guvinda
Keywords:
Quality Service, Customer Value, Price, Satisfaction
Downloads
Download data is not yet available.
References
Aisyah, M. 2018. Islamic bank service quality and its impact on Indonesian customers' satisfaction and loyalty. Al-Iqtishad: Jurnal Ilmu Ekonomi Syariah.https://doi.org/10.15408/aiqv10i2.7135
Akhtar, A., and A. Zaheer. 2014. Service quality dimensions development approach of Islamic Banks: A Scale development approach. Global Journal of Management and Business Research 14 (5): 11–19.
Anttila, Mai. (1978), Consumer Price Perception: A Multi-Dimensional Analysis of Perceived Quality and Adaptation-Level Price as Determinants of Price Perception. Management Researchs News, vol. 1 no. 2.
Christopher, M. (1996), From Brand Values to Customer Value. Journal of Marketing Practice, vol. 2 no. 1, pp. 55-66.
Doyle, P. (1995), Marketing in The New Millennium. European Journal of Marketing, vol. 29 no. 13, pp. 23-41.
Fecikova, Ingrid. (2004), An Index Method for Measurement of Customer Satisfaction. The TQM Magazine, vol. 16 no. 1, pp. 57.
Ho, S. (1995), TQM An Integrated Approach, Kogan Page, London.
Ijaz, A.T., and A. Ali. 2013. Assessing service attitude: Service quality measures taken by Islamic Banks in Pakistan. IOSR Journal of Business and Management 8 (1): 61–68. https://doi.org/10.9790/487x-0816168.
Pistoni, A., and L. Songini. (2018). Servitization Strategy and Managerial Control Volume Studies in Managerial and Financial Accounting, vol. 32, pp. 114. Emerald Publishing Limited.
Reichheld, F. (1996), The Loyalty Effect: The Hidden Force Behind Growth, Profits, and Lasting Value, Bain & Company, Inc. Harvard Business School Press, Boston, MA.
Richard A. Lancioni. (1991), Management Decision, vol. 29 no. 1.
Shopee, (2020). ShopeeFood available at https://shopee.co.id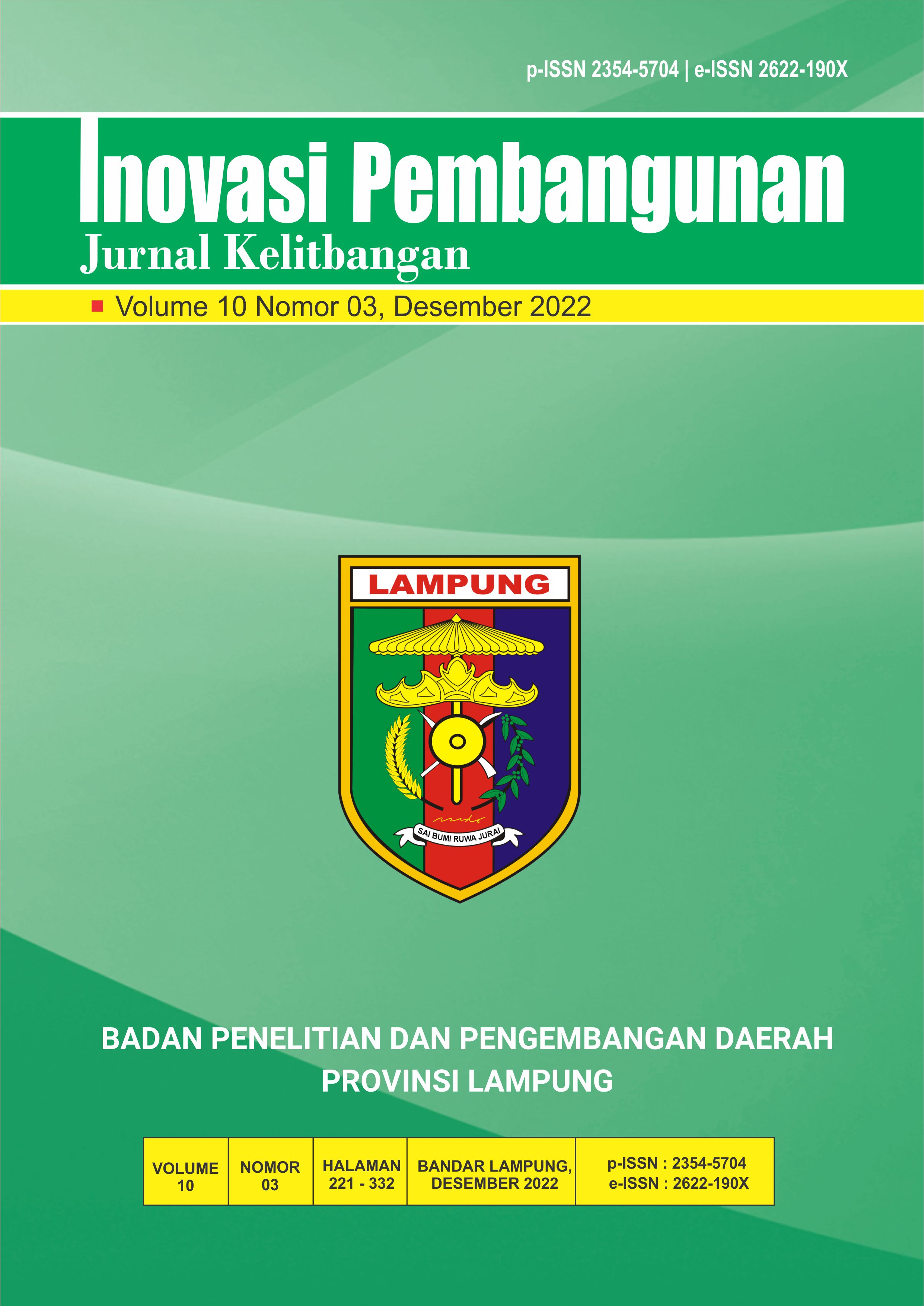 How to Cite
Haq, F., Nugroho, I., Aziz, B., Nisa, K., & Abel Guvinda, A. (2022). SATISFACTION OF ISLAMIC ECONOMICS AND BUSINESS STUDENTS AS SHOPEEFOOD CUSTOMERS (CASE STUDY: SHOPEEFOOD CUSTOMERS AT FACULTY OF ISLAMIC ECONOMICS AND BUSINESS UIN SUNAN KALIJAGA YOGYAKARTA). Inovasi Pembangunan : Jurnal Kelitbangan, 10(03), 247. https://doi.org/https://doi.org/10.35450/jip.v10i03.312
This work is licensed under a Creative Commons Attribution 4.0 International License.
The Authors submitting a manuscript do so on the understanding that if accepted for publication, copyright of the article shell be assigned to Development Innovation: Jurnal Kelitbangan (JIP) , Balitbangda Provinsi Lampung as publisher of the journal.
Copyright encompasses exclusive rights to reproduce and deliver the article in all form and media, including reprints, photographs, microfilms and any other similar reproductions, as well as translations, the reproduction of any part of this journal, its storeage in databases and its transmission by any form or media. such as electronic, electrostatic and mechanical copies, photocopies, recordings, magnetic media, etc.