DANA KEGESITAN (AGILITY FUNDING): SEBUAH MANIFESTO BAGI PEMERINTAH DALAM MENGHADAPI LINGKUNGAN DISRUPTIF
Abstract
Era disrupsi meningkat, banyak sektor terpengaruh olehnya. Dalam kasus pandemi Covid-19, pemerintah sedang berjuang menghadapi lingkungan yang cepat berubah ini. Sebagaimana diketahui pemerintah memiliki proses penganggaran yang kaku dan birokratis, hal ini menyebabkan pemerintah lamban dalam merespon lingkungan yang cepat berubah. Dengan fokus pada pandemi Covid-19, penelitian ini bertujuan untuk memahami bagaimana pemerintah menanganinya dan kemudian membangun model konseptual untuk solusi. Observasi, studi banding, dan studi benchmarking digunakan untuk pemodelan itu. Alhasil, agility funding menjadi solusi untuk membuat pemerintah gesit menghadapi lingkungan yang disruptif.
Downloads
Download data is not yet available.
References
Albrow, M. (1996). Birokrasi. Tiara Wacana.

Almada-Lobo, F. (2016). The Industry 4.0 revolution and the future of Manufacturing Execution Systems (MES). Journal of Innovation Management, 3(4), 16–21. https://doi.org/10.24840/2183-0606_003.004_0003.

Anwar, M. C. (2020). Lebih Parah dari Krisis 98, Bisnis Bioskop 2020 Paling Suram. CNBC Indonesia. https://www.cnbcindonesia.com/news/20200715135642-4-172909/lebih-parah-dari-krisis-98-bisnis-bioskop-2020-paling-suram.

Budi, A. A., Artadita, S., Saifuddin, R., Suharto, Y., & Dhewanto, W. (2018). Innovation vs Compliance on Indonesia Government. State and Digital Society, International Indonesia Conference on Interdisciplinary Studies, 30–36. http://lppm.unila.ac.id/.

Christensen, C. M., Raynor, M. E., Rory, M., & McDonald, R. (2015). What is disruptive innovation? Harvard Business Review, 93(12), 44–53. https://doi.org/10.1353/abr.2012.0147.

Denning, S. (2016). What Is Agile? Forbes. https://doi.org/10.2307/j.ctvgd25p.9.

Hidayat, Taufik. 2018. Kebijakan Pengelolaan Sumber Daya Alam dalam Perspektif Good Governance. Junal Inovasi Pembangunan.Volume 06 No 02, Agustus 2018.

Holmqvist, M., & Pessi, K. (2006). Agility through scenario development and continuous implementation: A global aftermarket logistics case. European Journal of Information Systems, 15(2), 146–158. https://doi.org/10.1057/palgrave.ejis.3000602.

J.H.de O.Luna, A., Kruchten, P., E.Pedrosa, M. L. G. do, Almeida Neto, H. R. d., & Moura, H. P. d. M. (2014). State of the Art of Agile Governance: A Systematic Review. International Journal of Computer Science and Information Technology, 6(5), 121–141. https://doi.org/10.5121/ijcsit.2014.6510.

Liang, H., Wang, N., Xue, Y., & Ge, S. (2017). Unraveling the alignment paradox: How does business-IT alignment shape organizational agility? Information Systems Research, 28(4), 863–879. https://doi.org/10.1287/isre.2017.0711.

Martin, F., & Highsmith, J. (2001). The Agile Manifesto. Software Development, 9783319101569, 9–14. https://doi.org/10.1007/978-3-319-10157-6_3.

Peraturan Pemerintah Pengganti Undang-Undang Republik Indonesia Nomor 1 Tahun 2020 tentang Kebijakan Keuangan Negara dan Stabilitas Sistem Keuangan Untuk Penanganan Pandemi Covid-19 dan/atau Dalam Rangka Menghadapi Ancaman Yang Membahayakan Perekonomian N, 2019 46 (2019)..

Pranita, E. (2020). Diumumkan Awal Maret, Ahli: Virus Corona Masuk Indonesia dari Januari. Kompas.Com. https://www.kompas.com/sains/read/2020/05/11/130600623/diumumkan-awal-maret-ahli--virus-corona-masuk-indonesia-dari-januari.

Rigby Darell, Sutherland Jeff, & Takeuchi Hirotaka. (2016). The Secret History of Agile Innovation. Harvard Business Review. https://hbr.org/2016/04/the-secret-history-of-agile-innovation.

Saifuddin, Ridwan. 2020. Pemanfaatan Teknologi Informasi dalam Peningkatan Pendapatan Asli Daerah. Jurnal Inovasi Pembangunan. Volume 08 Nomor 02, Agustus 2020.

Saunders, M., & Lewis, P. (2012). Doing Research in Business & Management. Pearson Education Limited.

Setiyono, B. (2007). Birokrasi dalam Perspektif Politik & Administrasi. Puskodak FISIP UNDIP.

Shukman, D. (2020). Coronavirus: WHO advises to wear masks in public areas - BBC News. https://www.bbc.com/news/health-52945210.

Tentang DPR - Dewan Perwakilan Rakyat. (2020). DPR.Go.Id. http://www.dpr.go.id/tentang/tugas-wewenang
Tjokrowinoto, M. (1995). Pembangunan, Dilema dan Tantangan. Pustaka Pelajar.

Undang-Undang Nomor 24 Tahun 2007 tentang Penanggulangan Bencana, (2007).

Vernanda, R. (2019). Kesiapan Indonesia Menuju Agile Governance. Konferensi Nasional Ilmu Administrasi. http://180.250.247.102/conference/index.php/knia/article/view/147.

Wren, D. A. (2005). The History of Management Thought (Fifth edit). Wiley.

Wright, C. R. (1992). Sosiologi Komunikasi Massa. Remaja Karya.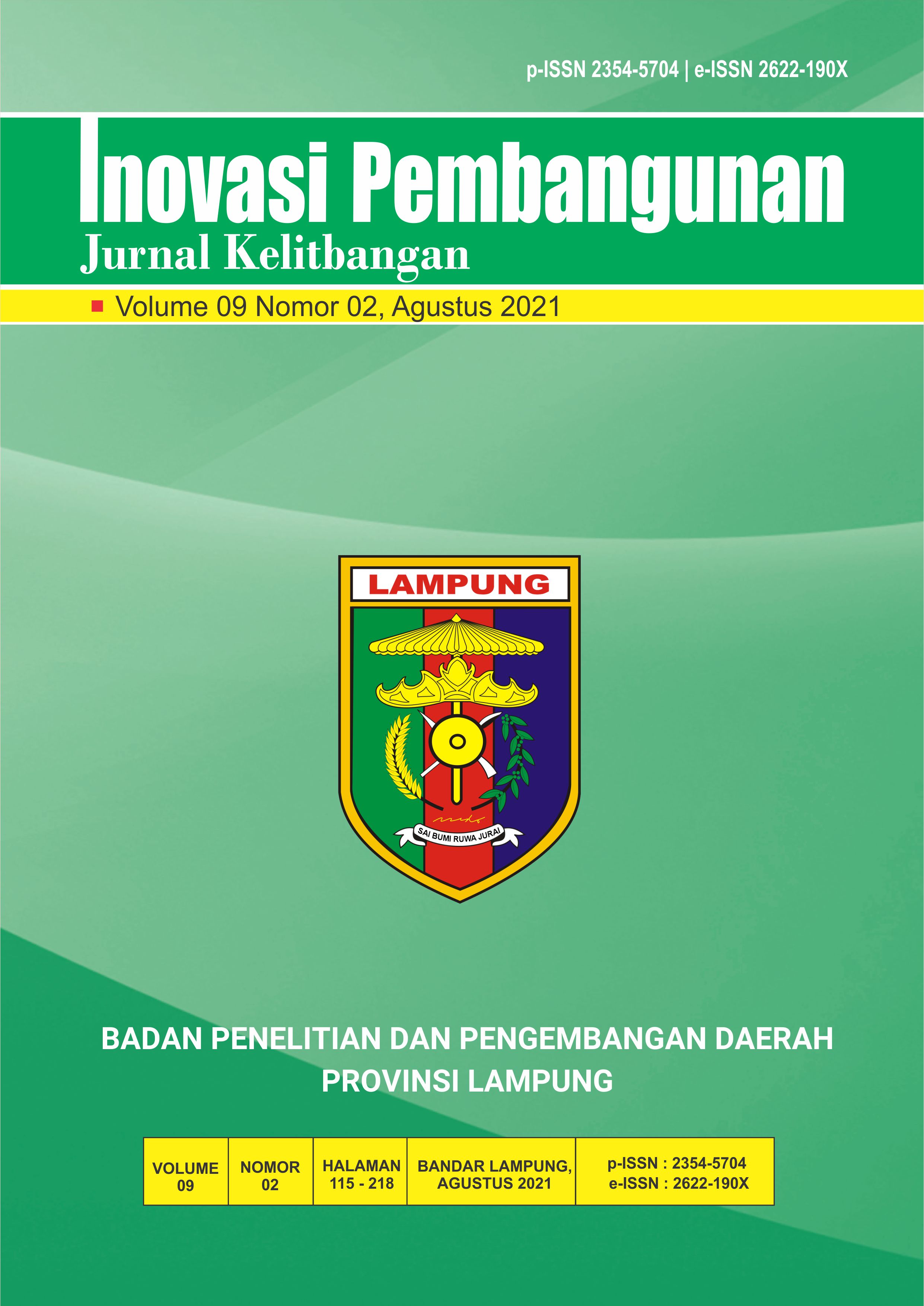 How to Cite
asmariadi, adi. (2021). DANA KEGESITAN (AGILITY FUNDING): SEBUAH MANIFESTO BAGI PEMERINTAH DALAM MENGHADAPI LINGKUNGAN DISRUPTIF. Inovasi Pembangunan : Jurnal Kelitbangan, 9(02), 115. https://doi.org/https://doi.org/10.35450/jip.v9i02.263
This work is licensed under a Creative Commons Attribution 4.0 International License.
The Authors submitting a manuscript do so on the understanding that if accepted for publication, copyright of the article shell be assigned to Development Innovation: Jurnal Kelitbangan (JIP) , Balitbangda Provinsi Lampung as publisher of the journal.
Copyright encompasses exclusive rights to reproduce and deliver the article in all form and media, including reprints, photographs, microfilms and any other similar reproductions, as well as translations, the reproduction of any part of this journal, its storeage in databases and its transmission by any form or media. such as electronic, electrostatic and mechanical copies, photocopies, recordings, magnetic media, etc.