PERANCANGAN DAN IMPLEMENTASI WEBSITE LAYANAN AKADEMIK DI SMA NEGERI 07 BANDAR LAMPUNG
Yohana Tri Utami

Universitas Lampung

Riki Sofyan

Universitas Lampung

Rd. Irwan Adi Pribadi

Universitas Lampung
Abstract
This research focuses on creating a website for academic services at SMA Negeri 07 Bandar Lampung. It aims to design and realize a web-based academic information system for SMA Negeri 07 Bandar Lampung using the Laravel Framework with the PHP programming language and MariaDB as the database server. In designing an academic information system at SMA Negeri 07 Bandar Lampung that uses the Waterfall method, it is divided into several user accesses, namely administration (admin), teachers and homeroom teachers, each of which has access to different features. With the existence of the SMA Negeri 07 Bandar Lampung website, the school has an alternative media for providing information, making it easier to manage and search for academic data. System testing that has been carried out results in an assessment for satisfaction at an average rating of 99.75% with the "Very Good" category.
Downloads
Download data is not yet available.
References
Anam, K. (2018). Analisa Dan Perancangan Sistem Informasi Akademik Berbasis Web Pada Mi Al-Mursyidiyyah Al-'Asyirotussyafi'Iyyah. 11(2), 207–217. Jurnal Teknik Informatika.
Djaelangkara, dkk (2015). Perancangan Sistem Informasi Akademik Sekolah Berbasis Web Studi Kasus Sekolah Menengah Atas Kristen 1 Tomohon, 2301-8402. e-jurnal Teknik Elektro dan Komputer
Firman, A., Wowor, H. F., Najoan, X., Teknik, J., Fakultas, E., & Unsrat, T. (2016). Sistem Informasi Perpustakaan Online Berbasis Web. 5(2), 29–36. Jurnal Teknik Elektro Dan Komputer
Handika, I. G., & Purbasari, A. (2018). Pemanfaatan Framework Laravel Dalam Pembangunan Aplikasi E-Travel Berbasis Website. 1329–1334. Konferensi Nasional Sistem Informasi STMIK Atma Luhur Pangkalpinang
Hidayat, A., & Surarso, B. (2012). Penerapan Arsitektur Model View Controller (MVC) Dalam Rancang Bangun Sistem Kuis Online Adaptif. 57–64. Seminar Nasional Teknologi Informasi Dan Komunikasi.
Jamaliah., Skripsi: (2011). Sistem informasi akademik berbasis client server. Jakarta. UIN Syarif Hidayatullah.
Jogiyanto H.M. 2005. Analisis dan Desain Sistem Informasi. Andi : Yogyakarta
Lipursari, A. (2013). Konsep Dasar Informasi. Peran Sistem Informasi Manajemen (Sim), 3(2), 1–9. Semarang : Jurnal STIE Semarang.
Oetomo, Budi Sutedjo Dharma. (2002). Perencanaan dan Pembangunan Sistem Informasi. Yogyakarta: Andi.
Pradipta,A,A.,Skripsi: (2020). perancangan dan implementasi sistem manajemen dalam pengelolaan data akademik berbasis web di SMA Negeri 01 Liwa. Lampung: Universitas Lampung
Suendri. (2018). Implementasi Diagram UML (Unified Modelling Language) Pada Perancangan Sistem Informasi Remunerasi Dosen Dengan Database Oracle (Studi Kasus: UIN Sumatera Utara Medan). 3(1), 1–9. Jurnal Ilmu Komputer Dan Informatika.
Warman, I., dan Ramdaniansyah, R. (2018). Analisis perbandingan kinerja query database management system (DBMS) antara MySQL 5.7.16 dan MariaDB 10.1. 6(1), 32–41. Padang : Institut Teknologi Padang.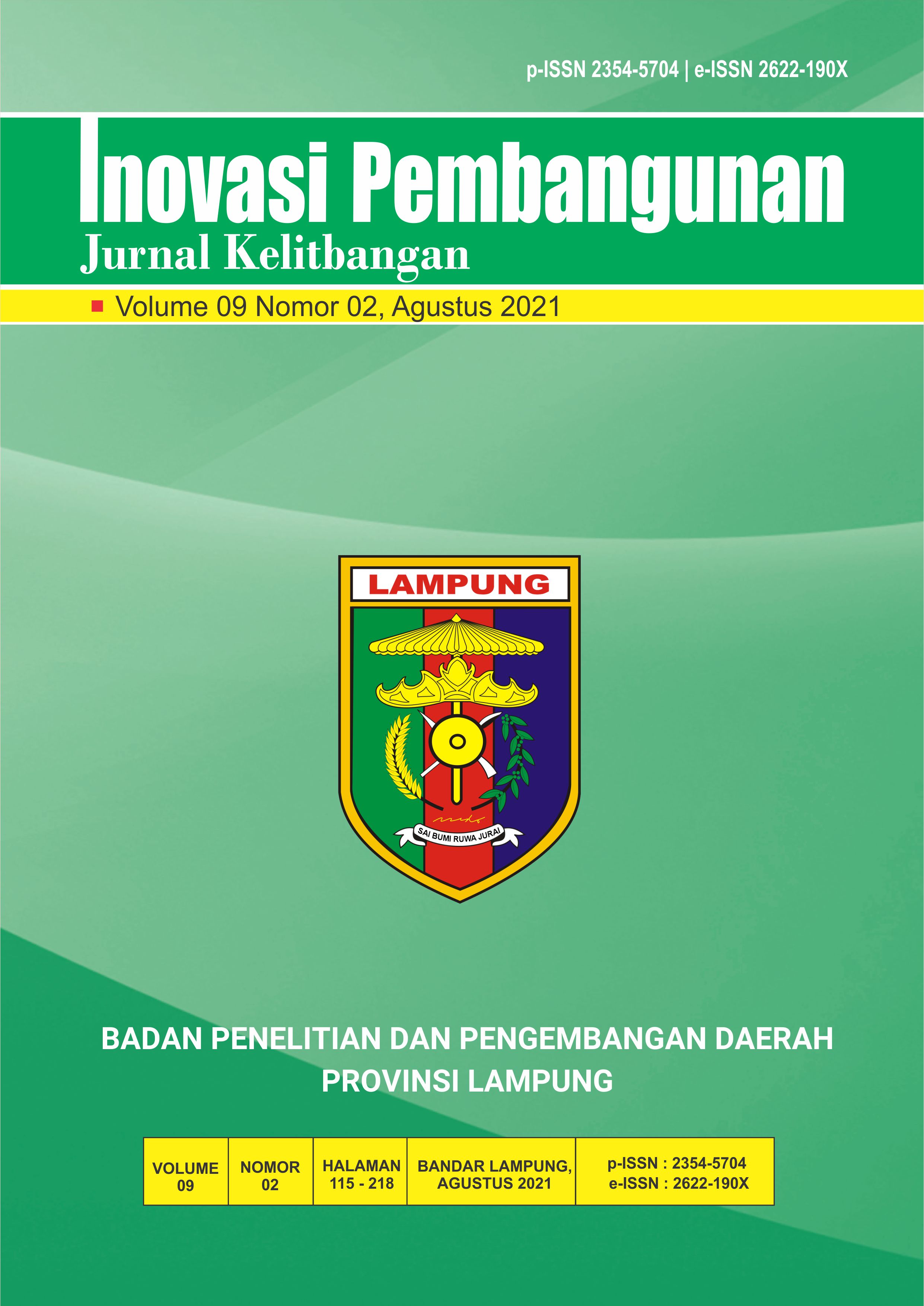 How to Cite
Utami, Y., Sofyan, R., & Pribadi, R. I. (2021). PERANCANGAN DAN IMPLEMENTASI WEBSITE LAYANAN AKADEMIK DI SMA NEGERI 07 BANDAR LAMPUNG. Inovasi Pembangunan : Jurnal Kelitbangan, 9(02), 167. https://doi.org/https://doi.org/10.35450/jip.v9i02.255
This work is licensed under a Creative Commons Attribution 4.0 International License.
The Authors submitting a manuscript do so on the understanding that if accepted for publication, copyright of the article shell be assigned to Development Innovation: Jurnal Kelitbangan (JIP) , Balitbangda Provinsi Lampung as publisher of the journal.
Copyright encompasses exclusive rights to reproduce and deliver the article in all form and media, including reprints, photographs, microfilms and any other similar reproductions, as well as translations, the reproduction of any part of this journal, its storeage in databases and its transmission by any form or media. such as electronic, electrostatic and mechanical copies, photocopies, recordings, magnetic media, etc.